Among personalized learning and caregiver engagement, student assessment is one of the most important aspects of early learning. Educators who consistently use formative assessment strategies are shown to double the speed of learning for students in their classroom. While the link between assessment and early years learning is clear, a gap remains with the data that is being collected.
Traditional assessments only capture two perspectives: the teacher and the student. This leaves learning that happens outside of the classroom unidentified. There are more stakeholders in student learning outside of school, so how do we bridge the gap from inside the classroom to the outside world?
The answer is holistic education. Holistic education integrates multiple learning components in its thinking, focusing on the whole learner instead of the sum of its parts. It pays significant attention to experiential learning and aims to help students reach their maximum potential. Assessment needs to encourage communities and caregivers to take part in a child's learning so students can demonstrate their full potential. This not only helps students but supports educators by increasing caregiver and community engagement.
What does holistic education mean for future learning?
A child's early life experiences are proven to have a lasting impact on their development and future learning success. For this reason, early years assessment data needs to be collected accurately and holistically.
More than 85% of a child's brain growth development
occurs before the age of 5.
With holistic assessment, every stakeholder in a child's learning benefits. Caregivers are empowered to help their child learn effectively and teachers receive support from caregivers and the community while gaining access to better data to inform instruction.
With better data, true personalized learning can finally be achieved – an ambitious objective looking to be met by educations systems globally. With personalized learning still a frontier, a holistic approach in assessment can accelerate its development. In Canada, some provinces still use standardized assessments that date back twenty years, but the good news is they recognize the need for change.
In order for personalized learning to be effective, accurate and comprehensive information is required to define the needs of the learner. A holistic approach to assessment enables this in two ways.
First, by broadening its scope to identify learning in the home, community, land (and school), holistic assessment provides new information for teachers. New information about each learner that may have never been asked or identified. Second, a holistic assessment provides more accurate information through its more natural and formative approaches. Through the provision of culturally enabling tools and implementation, holistic assessments are able to break down direct and indirect biases during the assessment, which creates a more comfortable and supportive environment for students to demonstrate their skills and abilities.
Applying a holistic approach to assessment also fosters a mindset of collaboration. Students are taught to stop, collaborate and listen to each other's thoughts for constructive discussion. They're taught this behaviour because it will be expected of them in the workplace. Teaching in collaboration with caregivers and the community sets a precedent for students and produces better education at the same time.
What research supports holistic education?
The holistic approach is rooted in Canadian First Nations teachings and the lifelong learning model – both products of research from the Canadian Council on Learning. Indigenous people in Canada have long understood the role that learning plays in building healthy, thriving communities and despite significant cultural and historical differences, Canada's First Nations, Inuit and Métis people share a vision of learning as a holistic, lifelong process.
"We have constantly measured the wrong things against a different paradigm — leading inevitably to an assessment of failure."

– Canadian Council on Learning
Though developed for Indigenous peoples in Canada, the holistic approach can be applied to students of all cultural backgrounds. In fact, two of the top performing education systems in the world thrive using aspects of the holistic approach and lifelong learning model. Education systems everywhere are teaching a lifelong learning mindset so students can keep up in a fast-paced, digital world. It's perhaps time these systems adopt the same mentality for early years assessment.
A key piece in making sure the holistic approach is implemented efficiently is technology. In today's day and age, the approach doesn't work without it. Technology makes it easy for teachers, caregivers and community members to be in sync with where and how the student is learning. Technology can aggregate and curate assessment results making it easily accessible to all stakeholders. In addition, from a student's perspective interacting with technology in early assessment is crucial to developing the digital literacy required in today's workforce.
Why should teachers advocate a holistic approach to early years assessment?
With more information at hand, a holistic approach helps identify every student's learning strengths and encourages teachers to help students use their strengths to address their challenges in every educational setting. This allows educators to better inform instruction for each individual child.
A holistic approach to assessment yields better results and distributes the responsibility of educators by engaging caregivers. Not only that, but the positive impact of caregiver involvement has long shown to produce higher student achievement. By connecting caregivers and the community to learning in the classroom, caregivers can complement their child's learning path with community and home-based activities.
Less work for teachers, more involvement of caregivers and improved learning results. 
For more information about a holistic approach to assessment or holistic education, send us an email at letstalk@spriglearning.com.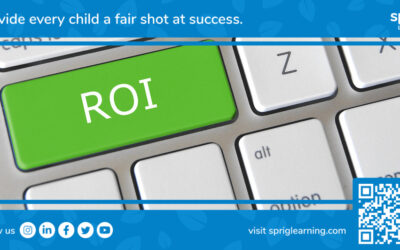 Education leaders do not seek a monetary return on their investments, but they do seek greater student learning and cost-efficiency. This is called the academic return on investment for schools. This article is about increasing the academic return on investment through early literacy initiatives.
Approximately 4 million students are enrolled in Grade 3 in the US in 2022. We regularly read reports from different states about the percentage of Grade 3 and Grade 4 students scoring below the state assessment level for reading proficiency. It ranges from 20% to as much as 60%.
Even if the lower quartile is considered, that means 1 million students are struggling to read in the US. It's quite a daunting task for reading specialists, with each reading specialist, on average ,responsible for supporting 52 students!
In this article, we look at the nature of the job that is done by reading/literacy specialists, evidence of their effectiveness, and put forward ways in which we can better support them.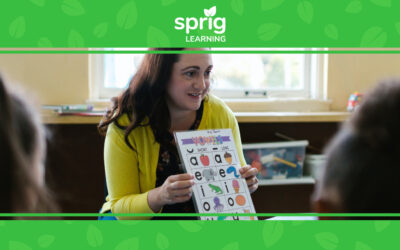 Often the word "literacy intervention" conjures up thoughts that relate to cost-inefficiencies and doubts over its overall efficiency.
But with hundreds of reading intervention programs being used by thousands of schools, we are past the point of debating the usability of interventions.
Rather, the focus should be on how to best implement literacy interventions in schools.