Education Administrators have a lot to consider when strategizing and planning for the school year.
Different priorities are pitted against each other. 
Some are operational in nature, regarding maintenance of personnel and education infrastructure needs. 
Others deal with innovations that are geared towards improving student outcomes and engaging the broader learning community. These improvements often save costs and raise the quality of education.
Looking at it from a human resources lens , there is one group in particular that is the engine of our education system. 
Teachers. 
Overworked, yet eager for ongoing improvements, there is a case to be made for providing the right tools that help teachers address the growing and fluid challenges facing students, families and schools today.    
Combined with the necessary professional development (PD), teachers become better able to manage their classrooms.
Of course, it is always best when the experience and knowledge of educators are used to ensure new solutions align  with classroom routines. 
Sprig Learning is an example of such a solution, built and designed in partnership with educators to be flexible and fit into any daily schedule!
In this article, we look at essentials of an early childhood teacher's schedule. 
By following a set structure, an educator ensures that they are fitting the best quality education possible in the time they have at the school with their students. 
Daily Teacher Schedule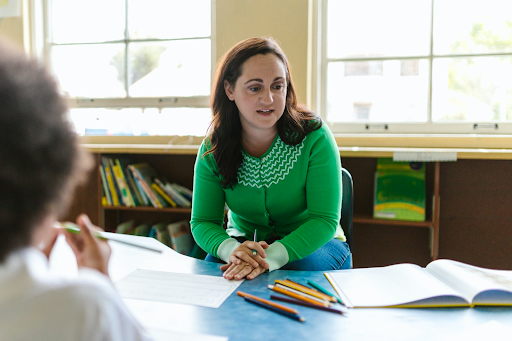 ​​Primary Sources surveyed over 10,000 teachers and determined they worked an average of 10 hours and 40 minutes a day. 
How teachers spend this time differs from person to person. The amount of variation between teachers that exists in how they set their  schedules is truly mind-boggling, and an indication of the incredible innovation and creativity of teachers!
However, setting a schedule (whatever it may be) is extremely important for teachers, administrators, and most importantly the students. 
There are common themes that we see in all schedules. These are covered in the following sections. 
But first a foreword of what a teacher schedule is not.
A Teacher Planner is Not a Schedule
A teacher planner is a resource that contains many things that help teachers plan their day. 
However, it is not a schedule. 
A teacher planner contains things like student birthdays, notes of interactions with each student, parent contact information, etc. In addition to all these things, the planner may also contain a schedule.
The teacher planner is an amazing resource! It has been heavily commoditized (and for good reason) as it's so popular amongst early grade teachers to keep track of all lessons, grades, and meetings.
A schedule is not something that can be commoditized. They are often perfected over time through the knowledge, experience and loving effort from educators. 
The following themes are common in teacher-made schedules. These are the essentials.
Common Themes in Teacher Schedules
Pacing is very important when teachers instruct their class of diverse early learners. Energy is needed to keep everyone active and engaged, but too much of it can exhaust students as well. 
The following themes thus correspond to the state of energy that both educators and students have throughout the school day. 
Preparation/Morning Circle (Rise)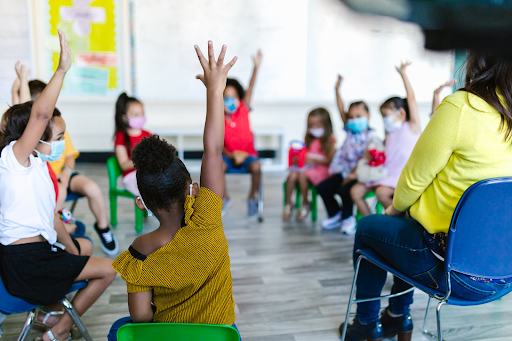 The first period of any schedule is so important as it provides that predictability and transition for young children. 
Preparation is the first thing on many of the kindergarten and elementary teachers's schedules. 
Some type of morning group activity such as circle time is usually bundled in during this phase. 
This phase of the schedule serves four purposes. 
It allows the educator and students to discuss all the formalities (if any) the school requires. It could be reciting a mission statement, singing the anthem, etc.

It allows the educator to greet every child, and allows students to settle in and unpack their school bags.
Some type of activity is often done here to start off the day, such as singing songs in a circle, reading with a partner, exchanging smiles with each other, picking lunch options, etc.
Lastly, it allows the educator to outline the day ahead together with the students.
As mentioned before, it's important to get new students accustomed to the different lessons throughout the day. 
With Sprig Learning, an educator is able to take a quick glance at their student dashboard to identify what skills and activities they should focus on. 
This is individualized learning, in the truest sense of the word, that is learning customized for one student. 
Differentiated instruction, which is a term used for group differentiation, is when learning is customized for a group of students. 
With Sprig, educators are also able to use their online dashboard to group learners into centers based on their needs, strengths and/or interests.
Block Schedule (Sustain Energy)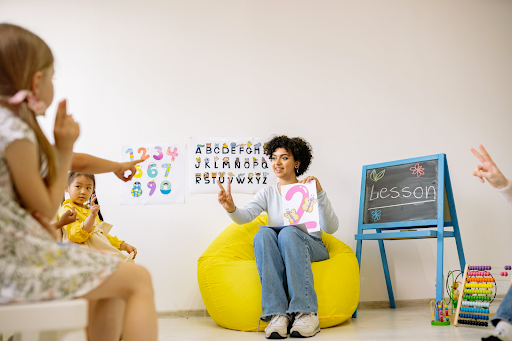 ​​Block scheduling is a very popular teaching strategy adopted by early learning educators. 
The actual lessons are administered in blocks of time, designated to teach a certain topic. 
It's a time to focus on particular subjects, such as reading, writing, math and science. 
These blocks contain direct instruction, games, hands-on activities, mini-lessons, workshops, etc!
The number of ideas for activities are endless, but it's important that these activities actually teach the lesson that is in the curriculum. 
This is the challenging part where additional support can be useful for educators.
Sprig Learning early literacy and numeracy programs contain hundreds of learning activities that map to specific curricular outcomes. These include individual,group and whole class activities. 
Literacy blocks are the most common and usually take the largest chunk of time out of all the learning blocks. It is recommended that the 5 fundamental early literacy components are covered.
When educators set up learning centers and rotate groups of students, there are certain activities that are more suitable for this purpose. The learning materials from the Sprig Store help provide classroom resources to compliment and drive instruction for these learning centers. 
Going Home/Dismissal (Unwind)
​​Learning truly never stops in the early years. 
It happens both inside and outside the classroom, at the home, and in the larger community. 
Armed with the holistic insights, educators are in a better position to understand what the learning environment for f the student looks like outside the classroom. 
With Sprig Learning, parents and other caregivers contribute to this understanding by completing surveys about the opportunities for learning at home.
If teachers want to reflect what was learned during the day, there are activities in Sprig learning programs that allow them to do so with their students. 
Teachers provide parents with simple, everyday learning activities that are designed specifically for their child. Parents are able to better support their child at home, working on areas that complement the curriculum taught in school. 
Keeping it Simple. Doing the Essentials Right.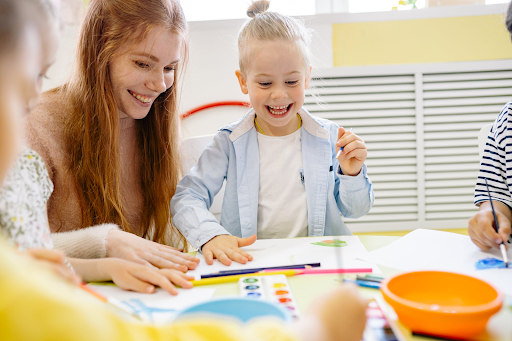 There is a tremendous variety of early childhood teacher schedules that exist.
It takes a great amount of work for early childhood educators to first create a schedule, and then perfect it along the way, with slight adjustments.
It's not advised that any such carefully crafted schedule be discarded. 
Rather the schedule should be supported with tools and resources, so it's easier for the teacher to do what they had envisioned. 
Think of it as painting a wall.
From deciding to paint, to finishing painting a wall, it is a process. 
If you have done this sort of thing before, you know you will have to select the right type of paint, ensure you have the right tools such as a brush, and make sure the coating dries after the job is done. 
There is no need to reinvent the process. Experience is sufficient in ensuring that it gets done. 
But at each step, it's okay to use aids that make the job easier. 
That is, using a colour visualizer to make the choice of paint, a roller brush to apply more consistent strokes, or a dehumidifier to dry the paint faster. 
Sprig Learning is here to help educators every step of the way, whether it is creating a schedule, implementing a schedule, or perfecting a schedule. Get in touch with us to learn more.