Coding, digital literacy, tech etiquette – these competencies are being squeezed into 
curriculums faster than you can say 'growth mindset'. There is a justified reasoning behind this 
digital push, but let's not forget the importance of early literacy.
Without developing digital skills, students will have trouble entering the workforce. Without developing early literacy, students will have trouble mastering digital skills. Herein lies the problem: failure to promote early literacy ripples through student learning as reading, writing and speaking are the foundation for success.
Why are oral language and early literacy skills so important?
Oral language and literacy are key components of early student learning and the greatest initial predictors of a child's success in school. It is the bedrock on which literacy can build. Babies begin to acquire language within months of being born and by age five, they can master basic sound system structures and grammar. Children who do not develop the necessary language, reading and writing skills in their early years of schooling are at risk of developing further challenges in other areas of learning.
"Human beings are born to speak; they have an innate gift for figuring out the rules of the language used in their environment."
In addition, early language skills are predictive of later reading comprehension development. A 2011 report found that poor 'comprehenders' in the fifth grade – those with poor reading comprehension despite adequate word-reading skills – showed weak language skills as early as 15 months of age (Justice, Mashburn, &Petscher, in press). Oral Language is a skill practiced all the time with teachers, educators, parents, peers and members of the community and if supported properly, encourages reading and writing.
Regardless of a student's language, nationality, culture or socioeconomic status, oral language development is of fundamental importance during a child's formative years. That being said, cultural relevance can make a huge difference in strengthening student learning. Culturally enabling content means the student can see themselves in what they are learning. With relatable content, connections are made easier and learning happens fluidly.
What should your early literacy program look like?
As mentioned earlier, digital literacy is nothing to be discounted – it is a necessary competency that should be included in the early literacy discussion. The ideal early literacy program leverages digital tools to engage students with interactive, fun and personalized activities. If the content is culturally enabling that's even more effective, but make sure there is a heavy focus on oral language. Children's oral language skills are the foundation of reading and language comprehension.
Since few children entering kindergarten can read words, early literacy programs should look at oral language skills that develop word recognition and/or decoding ability. Knowledge of the alphabet and phonological awareness are strong predictors of decoding and comprehension and teaching both in combination shows a positive impact on improving the latter skills.
"As students explore language in classroom experiences, they begin to understand how to use their knowledge about language to communicate effectively in different ways, for a variety of purposes, including how to read and write."
Early learners should be exposed to oral language activities holistically, in all aspects of life. This is why it is important your early literacy program engages caregivers too. Students that have caregivers actively engaged in their learning have shown an average of .5 – .6 of a standard deviation for overall educational outcomes, grades and academic achievement.
Additionally, assessments of these early literacy skills are important to identify children who are likely to need more intensive instruction to achieve success with literacy. By identifying and working with students across all literacy levels early, educators can be proactive in ensuring that students meet or exceed academic expectations.
If children's oral language skills are assessed early and often, educators and caregivers alike are painted a clearer picture of student learning. The key is getting all of a child's stakeholders involved in early learning. When a child is educated holistically, magic happens.
____________________________________________________________________________
For more information about Sprig's Learning's Oral Language Program, send us an email at
letstalk@spriglearning.com
.
Justice, L.M., Mashburn, A., & Petscher, Y. (in press). "Very early language skills
of fifth-grade poor comprehenders." Journal of Research in Reading.
Trehearne, Miriam P., "Kindergarten Teacher's Resource Book." Nelson Thompson Learning,
Chapters 3 pgs 183-232, 2000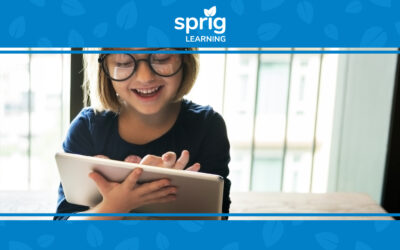 Encouraging and motivating a student during their early math experiences allows them to develop a keen interest in math. Such enjoyment and persistence in learning math pays off. Students explore creative ways to advance their learning instead of being discouraged and frustrated.
Play-based learning drives engagement in the early years.
Technology facilitates play.
In this article, we explore technology's potential in teaching early math skills.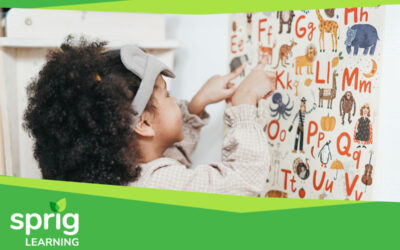 It may be easier to raise the performance standards for some students, but it's a much more difficult task to ensure all students receive the academic support they need.
Whether it's creating the right vision for early learning, or writing a high-performing school improvement plan, Sprig aims to present what has worked for schools.
This article is the latest installment of our early learning school improvement series. We present 3 case studies from the US that resulted in early learning student success. Each case is followed by a takeaway.
There are hundreds of different factors that determine literacy success, and there are potentially more factors that remain unresearched.
That being said, the evidence for the Science of Reading deserves thorough consideration from educators who are looking for ways to build early literacy skills in and develop proficient readers in their classrooms.
In this article, we look at how the Science of Reading informs early literacy strategies.