Adding technology to any learning program will not immediately translate into improved student outcomes. However, technology, when used with physical educational materials, has the potential to add tremendous value to classrooms. 
At Sprig we leverage the latest technological innovations to develop holistic and inclusive early learning programs that help teachers support a classroom full of diverse learners.
Technology can assist early childhood educators gather meaningful insights through innovative assessment, or manage a classroom full of diverse learners with personalized learning systems. But the actual off-screen lessons and activities, whether in school or at home, still remain of utmost importance. 
Sprig Learning is very much aware of this fact, which is why it puts a special emphasis on physical books, print material and educational resources into its early years programs.
For example, reading a storybook remains the single most important activity in early childhood education. Reading words from a page, without distraction, builds both concentration and attention span. Children who have more books at home and who learn to read by grade 1, have increased success in school.
Having said that, technology use in classrooms has been on the rise for many years now. Only four years ago, almost 60% of K-12 teachers used educational apps in their classrooms. With the pandemic, that number has likely surged. 
It is good to be cognizant of all the latest technology advancements that are being introduced in early learning. 
With Sprig's mission to provide every child a fair shot at success, it's important that the playing field is leveled by ensuring all students across North America are benefiting from the latest innovations.
One of these new innovations is augmented reality (AR). Educators and students use AR apps to access media and objects that appear in three dimensions (3D) on the screen! AR presents an enhanced, interactive version of reality with added visuals that actually appear to be a part of the scene displayed on the screen.
It is more than a trend, as it is set to become very common in the future. A few years back, over 80% of public school teachers in the US saw value in using digital technologies such as AR.
This article covers AR's place in early childhood education, its numerous benefits, and a case study from Sprig Learning. 
Augmented Reality Produces Results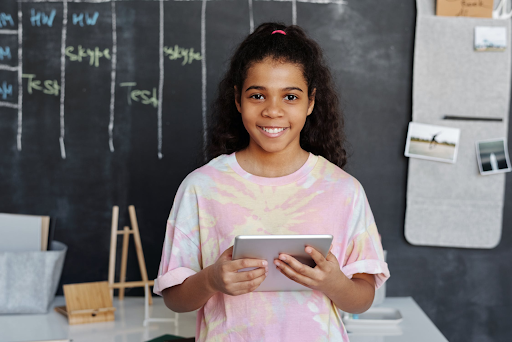 Introducing AR in pre-kindergarten classrooms has been effective in the growth of motivation and rapid letter naming among kids. In a study conducted by the University of Texas, students who received an AR version fared better than those who received a two dimensional (2D) version of the same material. 
In a study from the State of Kuwait, AR apps improved the engagement rates of kindergartners in their English alphabet lesson, which had a significant correlation with their alphabet test scores.
The 3M corporation conducted research to show that human beings process visuals 60,000 times faster than text. Using AR in the classroom greatly enhances the ability of the educator to offer another learning style for students who may otherwise struggle to learn a concept. 
Of course, every student is unique. There are many learning styles, all which require differentiated instruction in the classroom. The teacher is able to customize content, process, assess and environment according to the learning needs of the student. With AR, the teacher's toolbox for differentiation expands.
Benefits of Augmented Reality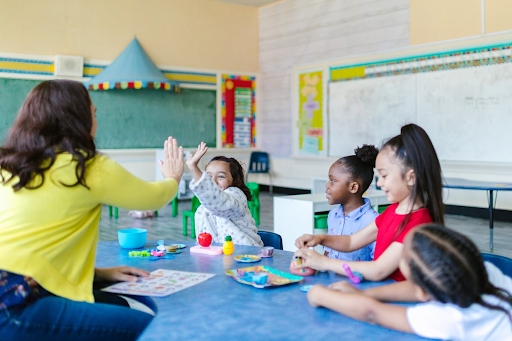 Complements Books for Fast Learning
Books can be read with AR-based applications. The animations in the story come to life, certain words can be accompanied with sounds, and immersing into a story can be simplified. 
These AR features can enrich the young learners' reading experience. AR applications have the potential to enhance oral language development and build the foundational skills strong and confident young readers need.  
Enhances Understanding of Concepts
Books, blackboard and screens offer a 2D screen. Only real life has three dimensions. 
Normally, it's difficult for educators to explain certain math concepts maneuvering the 3D environment. It helps if these concepts are demonstrated in a 3D fashion on a 2D screen, which is what the AR experience is. 
Also, the multisensory experience of hearing sounds, and getting closer to an environment on a screen helps develop mental dexterity in students. It is very conducive for understanding concepts, which requires the mind to process multiple things at once. 
Provides Room For Interaction
For educators, the joy of teaching is in the interaction with students. Teachers have both physical and digital educational materials to assist in this process, but they do not replace the actual one-to-one or one-to-many interactions with students that happen in the classroom. 
Large classrooms can sometimes prevent all students from getting the attention they need. AR can help replicate those direct connections where the students can, for example, interact with certain characters using AR, alongside interacting with teachers. By listening, touching and observing, the AR experience can become more meaningful. 
Promotes Inquisitiveness
For early childhood education, inquiry-based learning is a very effective way of teaching. It is very similar to play-based learning, or experiential learning. 
Concepts taught using AR help to fuel curiosity in young children, where they have questions or want to learn more, creating a situation where they are receptive to more knowledge. Real-world experience is always the first choice, but in times when it's not possible, AR capability can provide an effective secondary option.
Easy to Set Up and Operate
Remote learning is not an ideal, long-term solution for early childhood education. Young learners require the opportunity to be taught in an in-person setting.  
But it helps to have an effective option when and where in-person learning is not possible. In such scenarios, an AR experience can be delivered by downloading an app!
Whether in school or at home, the app, a tablet and internet are the only requirements. The tablet can be provided or subsidized by schools that want to implement a digital program. The internet is only required for downloading the app, after which it can be used without a web connection. 
Cost-Friendly
One of the primary motivations for technology in the classroom is its cost-saving potential. Technology can help educators become more efficient and can ultimately cut certain operational costs. 
AR adds to the cost-efficiency of technology. Certain interactions with the environment which are necessary for learning can be replicated by AR. For example, when certain field trips are canceled due to unforeseen circumstances, they can now be realistically virtualized. Or imagine being able to immerse students in faraway locations where they would otherwise not be able to visit.
Augmented Reality in Action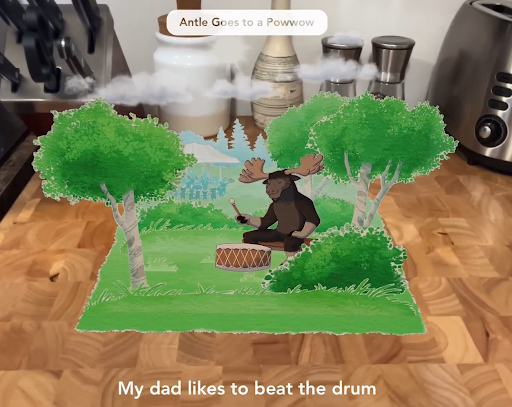 Sprig Learning is working on adding AR to its early learning programs. The developed app can be used by itself, acting as a 3D animated storybook for young learners. But it can also be used as a complementary resource in a learning program. 
Educators provide input in creating certain scenarios where the reality of teaching can be augmented by characters, depictions, objects on the screen. 
Early literacy is marked by high-quality learning experiences that promote speaking and listening. AR is an interactive tool that allows educators to offer a stimulating lesson to their students and support the creation of sound reading behaviours.
In the picture at the beginning of this section, Antle, a character from Sprig's Indigenous Stories series, sees his father playing the drums. 
The simulation can be projected on any surface using an iPad. Different angles can be accessed by moving the iPad around. The images are dynamic and move in the scenery, and as one zooms in, the noise of the drums gets louder, providing a realistic multisensory experience. Students can interact with the story and the characters, learn to pronounce certain words, work on their oral language skills and, in this case, learn to speak Indigenous words.
It's very important to state the educators' integral role in all of this. With their expert guidance and usage of AR capabilities, students will acquire the maximum benefit from such technology.
Currently, less than 10% of schools use AR in classrooms. But that can change very quickly as AR education apps become more prevalent and available. As this innovation expands, it's important to ensure that all children get the same opportunity to experience AR.
As the world changes, it's important to teach young learners the foundational skills and concepts using the latest innovations at our disposal. If you have an AR idea that you want to implement in the classroom, or are interested in producing an AR educational series, please get in touch.