Interested in creating your own classroom resources for early learners? Not sure where to start? We've got you covered! Sprig's in-house graphic designer is sharing a design education series just for you; to give you access to the tips and tricks you need to design your own teaching tools and classroom resources.
Part one focuses on one of the most important elements to consider when designing resources for the classroom – fonts.
Why is it so important to choose the right font?
Choosing the right font is absolutely essential when creating classroom tools and resources. The wrong font can result in children misunderstanding content, or in some cases, being unable to fully process or understand the information being presented to them.

Our first piece of advice is to resist the urge to choose cute, playful fonts. These fonts are most likely to confuse and trip up young learners. The 'Disney' font, for example, is adorable in appearance but would be terribly difficult for children at this age who are learning to both read and write.
One-storey vs. two-storey letters – what's the difference?
One-storey (or single-storey) letters are the ones we first learn to write as young children; they are most commonly used in handwriting, traditional calligraphy, and even in many italics. On the other hand, some letters have two-storey (double-storey,) versions used by almost all serif fonts (like Times New Roman), and many sans serif ones, too (like the one this blog is written in).
The best example to illustrate this is to look at the letter 'g'. The letter 'g' comes in both single- and double-story variants, either coming with a loop, or tail. We are taught to write single-storey g's as children because it's most common in handwriting and is the easiest to replicate for early learners. The letter 'a' also looks significantly different when you compare the one-storey and two-storey versions.
Take a look at the visual below. Keep in mind that two-storey a's are far more common than two-storey g's. Keep an eye out for the tail on the letter 't' as well – it could also be an issue depending on the font you choose.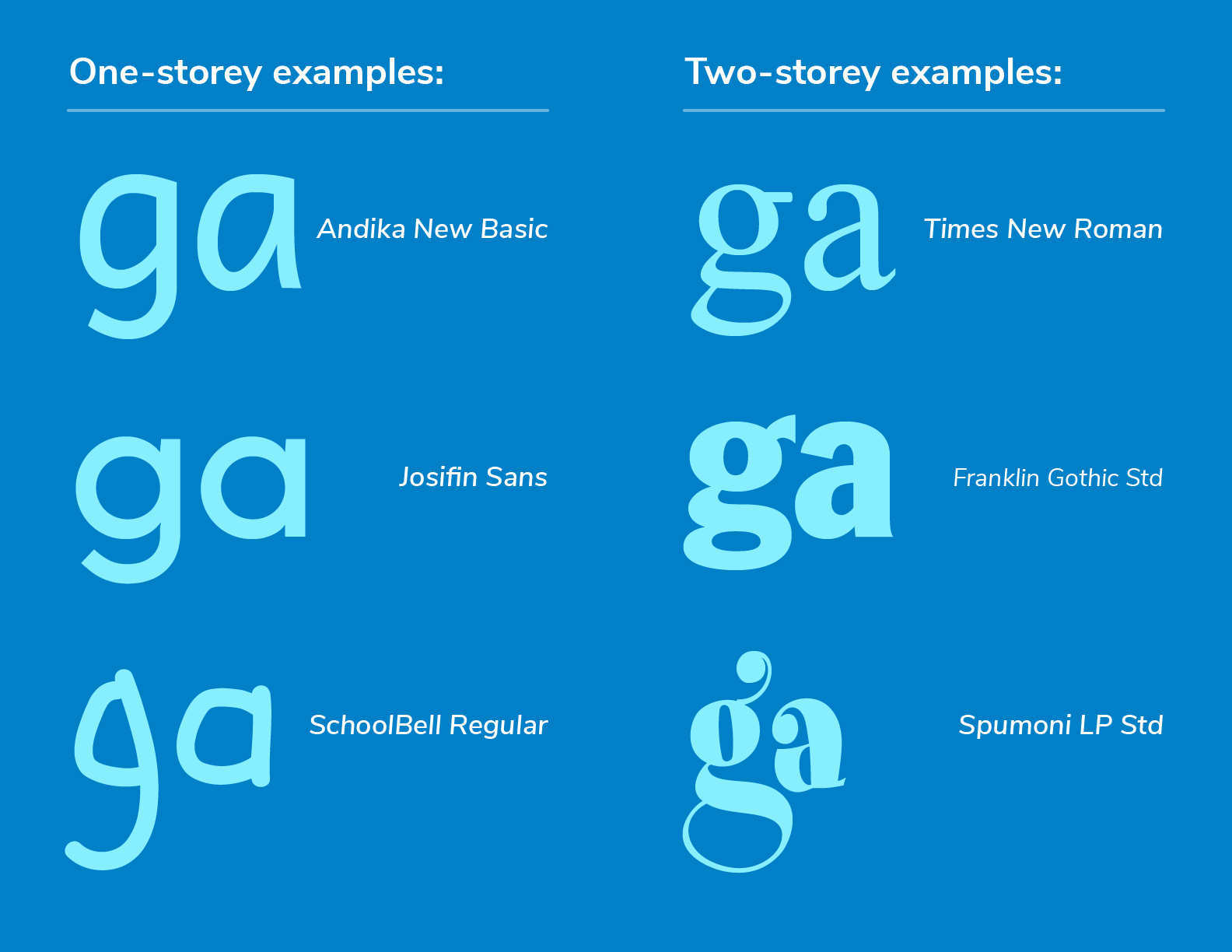 So, how will I know if a font is going to be right for my students?
We recommend you start by typing out every letter of the alphabet, all of the numbers and all commonly used punctuation, using both uppercase and lowercase characters. Take a look at each character carefully and ask yourself if they could be difficult for a young child or someone with impaired vision to read. 
Sprig tip: Create and save a text document on your computer that includes the full alphabet (upper and lower case), punctuation marks, numbers, and a few example sentences. From there, copy those and set them into a few different sizes and styles (italic, bold). You can also include a white version of the characters on a dark background to see how it looks reversed.
Here's a comparison of two different fonts, one that is much easier to read than the other: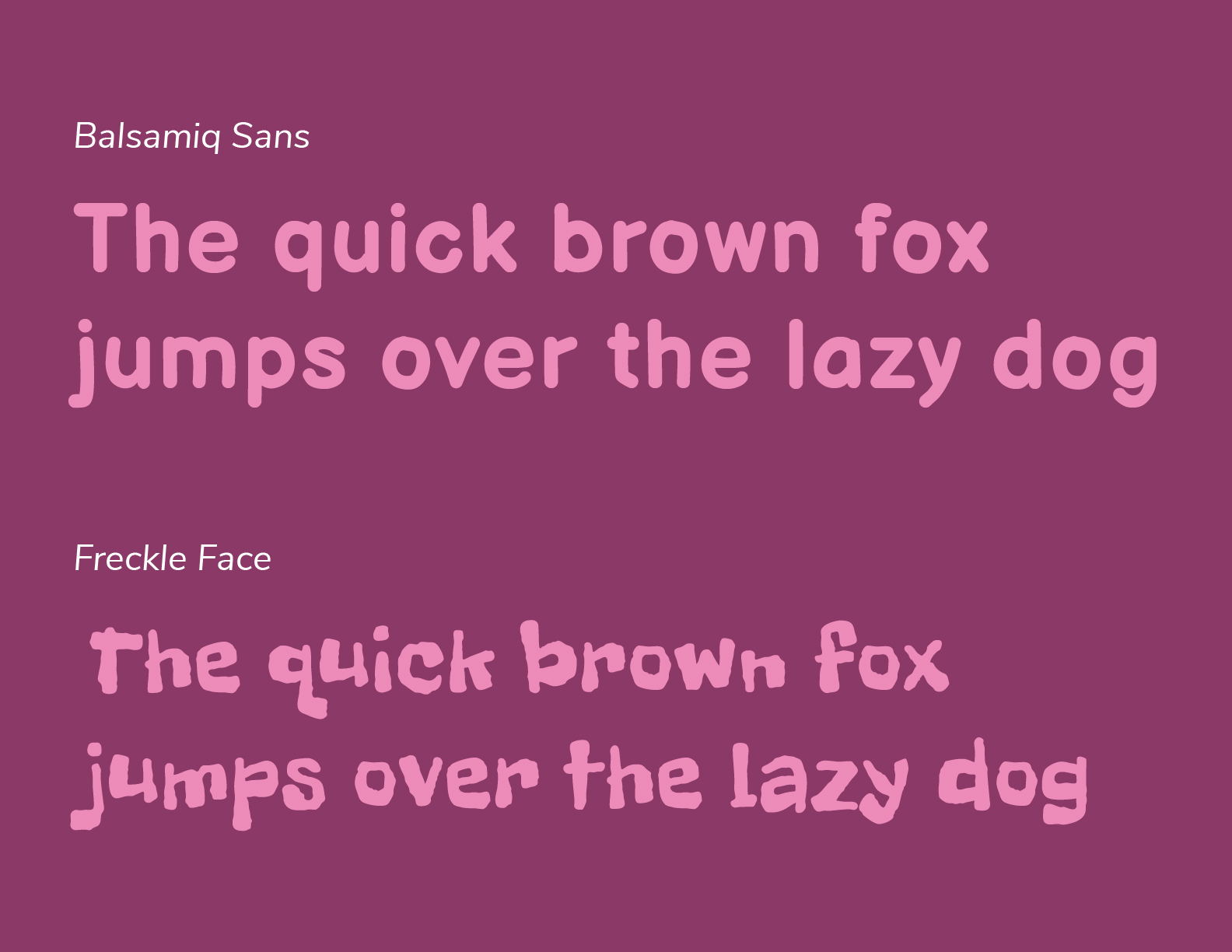 The second font in this example (Freckle Face) is fun from a design standpoint, for sure – but it's more likely to cause confusion with your students. To further illustrate this point, we tested out the font 'Duper' that we really liked here at Sprig, but ran into problems with the letters 'a' and 'g' presenting as two-storey (circled in red below).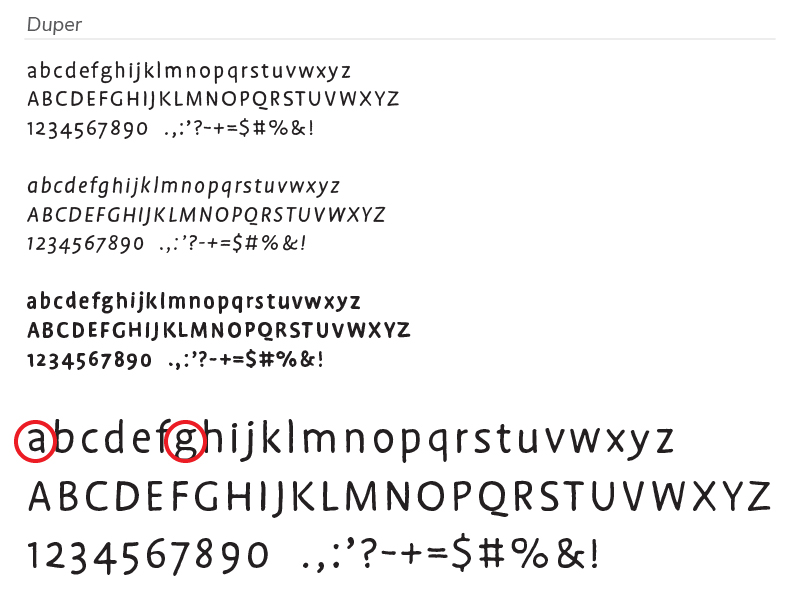 Once you've settled on a font that you're happy with, ask yourself these questions before finalizing and printing out your classroom resources:

Are all the characters easy to recognize?

Does this font include all of the characters that you need?

How legible is it, especially at smaller sizes?

Does it have a variety of styles?
Design software can be very expensive – do you have any free resources to recommend?
There are a ton of free resources out there, and we've put together a quick list of our favourites that are easy to use with little to no experience required:
Google Fonts

: A huge catalogue of free fonts you can download

Canva

: Design tools and templates for creating resources, or for organizing the classroom (Canva Pro gives you access to more stock images and photography, as well as useful design tools – although it comes at a monthly cost);
That's it for Part One on fonts as part of our brand new 'Design Tips & Tricks for Early Childhood Educators' series! Keep an eye out for Part Two in the coming weeks where we'll cover the design process, planning through to execution to ensure the classroom resources you produce are accessible, visual, versatile, and functional.
Have questions? Get in touch with our team at letstalk@spriglearning.com for more information about what we do or visit www.spriglearning.com to learn about our unique holistic approach to early learning.
Chris Hough, Graphic Designer for Sprig Learning